Micro-Card Conversion
While VivoKey is working on a legitimate payment implant solution, some people just don't want to wait! So, we are offering a payment card conversion service. We will attempt to convert any contactless payment micro-cards into implantable flex devices. The final converted device size will be 17mm wide x 27mm long x 0.5mm thick.
A payment "micro-card" looks like an overgrown SIM card. These cards are usually meant to be placed into keyfobs or wristbands or other sorts of wearable carriers, and not typically meant to be used on their own. If you have a contactless payment micro-card and would like to convert it into an implant, we can help.
Some micro-cards come as a snap-out element of a carrier card that's the same size as a standard credit card.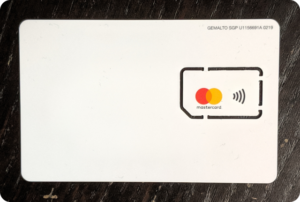 Warnings (READ!)
We are only able to convert micro-cards reliably at this point. If you want to convert another type of payment device, please check with us before purchasing this service! If you ship us something that is not a micro-card, we will refund 50% of your service fee and return it to you. Custom attempts at converting other devices will be considered, but only through negotiated arrangement.
Standard contactless payment cards like these are meant to be disposable. They will eventually expire, and there will be no way to renew them or use them after they expire. You will have to either leave the device implanted but useless, or remove / replace it.
Banks and payment vendors expect these products to be disposable, and may force a change on customers that will invalidate the current product, even before the expiration date. Many times new cards are issued due to actions like this and the old cards are inactivated. If this happens, your implant will be made inactive well before the expiration date.
We ship the converted implant in a solution of chlorhexidine and ethyl alcohol. We make no claims to it's sterility, nor advise on how to implant it. That is strictly between your installer and you to decide the best location and how to proceed implanting it. This is a conversion service only, not a product we are prepared to support.
Steps To Conversion
Step 1 – Locate a doctor or body modification artist willing to perform the installation! Our KSEC Cyborg centers are the perfect ones for the job! Do this first please. If you need assistance, perhaps some of the wonderful people on our community forum have some ideas.
Step 2 – Take note of any account numbers or payment ID information on the micro-card before shipping to DT. You should also consider setting up your account with the payment service, bank, or vendor and making a working payment to confirm it works how you expect it to work.
Step 3 – Take note of the expiration date. This may be printed on the product box or packaging the card came in, or on an insert inside the packaging. Put this date in your calendar as "Payment implant death date" so you know when to expect to schedule a removal or replacement procedure.
Step 4 – Purchase this service. Be sure to use your correct return shipping address under the shipping details section when checking out. You will receive shipping instructions in the order confirmation email. Be sure to read the order confirmation email!
Step 5 – Print the order confirmation email you will receive with your information on it and place it into a box along with the micro-card and ship it to Dangerous Things.
Step 6 – Reply to the order confirmation email you received with tracking information for your shipment!
Step 7 – Wait. We do not schedule conversions, however it typically takes a week to process the card for conversion once DT receives it.
Step 8 – Dangerous Things ship the converted card back to you at the shipping address given during checkout. In the event of a conversion failure, we will ship any remains of the attempt to you and refund you 50% of the service fee.